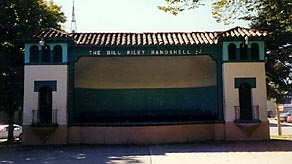 The Estes Park Bandshell is an unusual example of Spanish Colonial Revival design. The Estes Park Bandshell has continued to be a focal point of community activities. In 1940 the Republican Party held a gigantic rally to hear presidential nominee Wendell Wilkie speak at the bandshell. Band concerts are held on a regular basis, teen dances are sponsored during the summer, with big band dances for the adults. The Riverbend Rally over the 4th of July makes extensive use of the facility for all sorts of entertainment activities.
The Bandshell is a single-story building measuring 18'x44'. It is located on the south edge of the park, with the stage opening to the north, toward the center of the park. The exterior walls are of highly textured cream-colored stucco with brown trim. The hip roof is of red clay tile, with bracketed eaves below. All openings are round arched, except for the proscenium. The north elevation is symmetrical, with the stage flanked by projecting bell towers. The stage area was designed to hold between 50 and 60 musicians at one time.
The Bandshell is located in Estes Park and is accessible 24 hours a day for external viewing only.