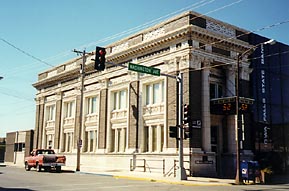 The First National Bank (1918) is a fine, relatively unaltered, example of Neoclassical bank design from the second decade of this century, and is of local historical interest because it demonstrates the strong growth in Iowa Falls at that time. The first building at this site was a brick one which was named the First National Bank in 1884. This building was then replaced by the existing structure in 1918. This was a period of growth in the entire community which lasted until the banking collapse closed its doors on December 21, 1932. The city was without a bank until the Iowa Falls State Bank was organized and opened on May 25, 1933.
The Lytle Company of Sioux City, was the architectural firm. The company specialized in bank designs. It is known that they designed at least twenty-five banks, primarily for Iowa communities. The architectural firm was able to achieve a rich surface pattern through the lavish use of terra cotta with special colors of brick. When the bank opened the blue-black exterior was described as being of "Hytex Mission Chinchilla face brick, with vanilla and cream full enamel satin finish terra cotta." The main entrance is flanked by monumental terra cotta free-standing Corinthian columns resting on granite bases. The main doorway features a terra cotta surround with a rich variety of Neoclassical details: egg and dart, bead and reel, rosettes, and a full denticulated entablature above. The granite base, brick parapet, terra cotta cornice, and brick pilaster continue around the secondary facade (east elevation) with two story windows placed between the pilasters. The terra cotta detailing on this building is so rich that the producer, the American Terra Cotta Company, featured a drawing of one of the capitals in its company publication, Common Clay.
The interior features a cashiers' counter and side wall of green veined cream colored marble with a ten-inch Westfield green marble base. The interior woodwork is of "Tabasco Mahogany."
The bank is open to the public by appointment and is located at 601 Washington Ave. (515) 648-5171.