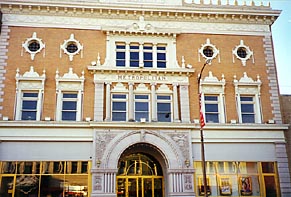 The design and construction of the Metropolitan Opera House was commissioned by one of Iowa Falls' most noted citizens, Eugene S. Ellsworth. At the time of its opening at the turn of the century, the theater was considered the most attractive and complete opera house in the state. Attendance at the grand opening performance was 800 making the evening the "biggest social event in the history of Iowa Falls." The theater soon gained a reputation as the "big time theater in a little town." Patrons came from miles around for the productions staged here, such as Faust, Uncle Tom's Cabin, The Merchant of Venice. John Phillip Sousa's band performed more than once on the stage. By the late 1920s, Vaudeville and the silent movies had become the stock in trade and the first sound system was installed in 1930. From that time until 1952 Ellsworth College drama productions, high school plays, dance recitals, and concerts were still performed between movie programs.

In 1993 the building underwent a restoration by its current owner Bob Fridley, an entertainment company owner from Des Moines. There are now two theaters inside. The Metropolitan Opera House was built in 1899. The basic building shell and structural fabric is typical of that period, but the three-story facade is done in one of popular late 19th century modes, Italian Renaissance. This facade is rich in the detailing of the style; the facade is quoined from grade to the frieze, the frieze is garlanded and topped with a bracket-supported cornice, fenestration consists of three types of windows on the second and third stories. The first story is simpler. A single storefront entrance flanked by a corbelled arch serves as the theater entrance.

The main floor of the original theater once seated 441 and the balcony seated 390. The stage was 66 feet wide and 30 feet deep. The stage had large wings to either side, fly space above it with the grid approximately 50 feet above the stage floor. The second and third floors at the front of the building were occupied by offices and now house the projection and sound equipment. The old ballroom is still mostly intact on the third floor but unrestored.

The building is located at 515 Washington Ave. and is open to the public during theater business hours.