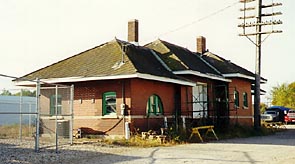 The Iowa Falls Union Passenger Depot (1902), is a variation of the second generation depots that the Illinois Central Railroad erected in smaller towns from the 1890s to the 1920s. This period coincides with the heyday of railroading in Iowa, during which the Illinois Central replaced its original wooden two-story depots with more permanent brick structures. While the depot designs were limited by their functions, as reflected in nearly identical floor plans, they were at the same time tailored to each town's particular needs.
The significance of this particular station is magnified because it was one of the few union stations along the I.C.'s Iowa Division. The depot represents the direct association between the Illinois Central and Des Moines, Iowa Falls & Northern railroads. The DMIFN was organized by E.S. Ellsworth and other prominent Iowa Falls citizens in 1899. During the years that the railroad operated as an independent company(1902-1908), it shared depot facilities with the Illinois Central. The depot's floor plan reveals its origin as a union station, a rare depot type in Iowa. In addition to representing the ICs shift toward brick replacement depots in Iowa during the early 1900s the Iowa Falls depot illustrates the individual history of railroads in Iowa Falls.
The design of the depot is stylistically eclectic with Italian Renaissance Revival influences. It is a one-story, four-by-one bay, rectangular building, with a pavilion-with-ells plan. Small bay windows mirroring each other project from its north and south sides. The depot foundation is concrete with a partial basement for the boiler under the east end. The walls are brick veneer but 13" thick, which suggests masonry construction underneath the veneer. The roof is hipped with the central "pavilion" higher than the eastern and western "ells." Diamond-shaped asphalt shingles and cast concrete copings cover the roof, which also has two interior brick chimneys with stone caps.
The depot is located at East Rocksylvania Avenue and Depot Street. It is currently undergoing a complete restoration. For info or tour call Iowa Falls Historical Society (515) 648-4603.