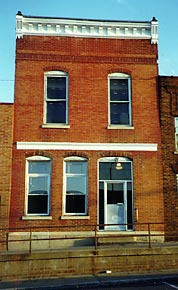 Organized nationally in 1883, the Women's Relief Corps was one of at least three womens' organizations created to serve the countries veterans. Members were responsible for decorating veteran's graves on Decoration Day, for caring for disabled veterans, and for seeing to the needs of widows and orphans of Civil War veterans.
Shortly after the Charles Payne Post of the Grand Army of the Republic was organized in Iowa Falls in 1883, the women of the community chartered Payne Post #48 of the W.R.C. (1886). The current hall was completed in 1898 after several years of fund raising. Their fund raising activities and their dedicated service to veterans and their families continued. But as time passed and membership dwindled. After years of Easter programs, entertainment, oyster suppers, flower sales and tireless efforts to care for the graves of veterans, the hall was deeded to the American Legion. The Legion deeded it to the City and it was purchased by a local individual. The building has recently been sold again to a local bridal and formal wear business.
The segmented arched windows and bracketed metal cornice are the primary design elements which give this structure its Italianate character. The adaptation made at street level to identify this as something other than a retail business was accomplished very simply, by the asymmetrical placement of the entrance and the use of tall slender windows rather than large pieces of plate glass.
The building is located at 710 Washington Ave. and is open to the public during business hours.